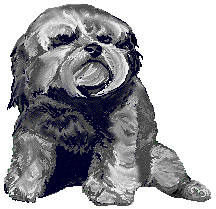 The Codyman
Camping with your Dog

The joys of camping can be greatly enhanced by bringing 
along your dog. However, it can also lose much of its pleasure 
if your dog becomes an annoyance to you or others. 
Plan ahead.

Campgrounds:
1. Make sure the campground allows dogs.Call ahead or
search the Internet.
2. Choose a campground and site which gives you 
sufficient room for your dog to 
wander on a long rope without entering another site.
3. Choose a site which will have shade on sunny days.
4. Carry proof of your dog's vaccinations.Some campgrounds
will require this before they allow you to enter.

Etiquette:
1. Always keep your dog tied up on your site. It is not worth 
the chance you will take that he may be injured by another camper
who does not like dogs, or that he runs into a dog-aggressive dog. 
Even dogs you think will not wander off can be enticed by new sounds,
sights and smells.There are many portable pens, which are suitable for small dogs.
These are excellent for dogs whoare not use  to being tied up, and they 
eliminate the hassle of tangled rope.
2. Keep your dog leashed when walking. Reel him in when passing other 
campers, dogs or cyclists.
3. Keep your dog quiet. There is nothing more annoying than the 
persistent barking of a dog.( a squirt gun works wonders to curtail barking)
4. Clean up after your dog. Cheap sandwich bags can be purchased from 
a grocery store.

Preparing a new dog for camping:
1. Your dog should walk comfortably on a lead. You must be in control
not your dog. He should walk beside you and sit on command. If he can
not do this then the first step isdog training classes- no matter how old he is.
2. Familiarize your dog to the great outdoors. He will encounter many sites 
and sounds that arenot found in his own backyard. Local nature parks
are a great help. They provide walking trails with other people and dogs. 
Hopefully you will have a few encounters with squirrels and other wild life. 
This will allow for invaluable training.
3. Make sure your dog is comfortable with your camping accommodations
This may require setting up your tent or camper, and allowing the dog to
become familiar with it. If he has special bedding, 
place this inside and spend  some time inside with him.
4. If your dog has never been tied up or put in a portable pen then
he should become use to this. Tie your dog up, in the back yard then
sit within his reach. When he is comfortable with this, walk away where
he can not follow but still see you. Come back and sit with him again. 
He will soon learn that he is limited to the length of his rope and he need
not fear that you are leaving him. The same process can be followed
using a portable pen. Reward all positive responses verbally and with a treat.

Equipment:
1. Dog  travel bag- pack one bag which will store all your dog supplies. 
This will include food, dishes, toys, medications and immunization records, 
clean up bags, leash, tie up rope. 
2. Bedding: if your dog is use to sleeping on a special pad take this along. 
If you are tenting it might be a good idea to get something comfortable 
for him to sleep on. This might also help keep him off your bedding.
3. ID Tag:  no one expects to lose their dog but accidents happen. 
A small plastic tag can be attached to your dog's collar. This should include
the dogs name, your name, the campground, site number and the dates of your stay.
If your home address info cannot be obtained from his regular tag you can 
also include this information. If you are traveling with a cell phone include this number.

4. First Aid Kit: You should always have a standard first aid kit 
for your family. A few extra items just for your dog can be added 
(extra bandages and swaps). Vet Wrap sticks to fur better without pulling out hair) 
Remember to check your dog for ticks.
5. Life Jacket: If you are planning any boating, and your dog is not a 
swimmer or does not have experiencein the water, it is worthwhile to
buy him a life jacket. These are made especially for dogs with a handle on the back.
This is very useful when trying to get a panicked dog out of the water.


With a little planning your camping experience can be wonderful for
both you and your dog.I can't imagine camping in the great outdoors
knowing my dog is stuck in a kennel.Sometimes I think he enjoys it
more than I do. At least that's what he tells me.
Happy camping.